Keep your site secure with HTTPS data encryption protection.
Top reasons why you need an SSL.
*Boost Search Engine Rankings & Increase Brand Value
*Secure Payments to Experience Safe Shopping
*An SSL certificate meets PCI (Payment Card Industry) compliance standards
*Guards your websites against scams
*Encrypts sensitive data
How SSL's work
When a visitor enters an SSL-protected website, your SSL certificate automatically creates a secure, encrypted connection with their browser. Your site is most secure when SSL is deployed on all pages and sub domains.
2. Once the connection is complete, a padlock icon and HTTPS prefix appear in the visitor's browser bar to show them they're safe to share personal details. If you install an EV (Extended Validation) SSL, the browser will activate the green bar and display your company name to prove you're legit.
3. All information passing to and from your website is now encrypted, making the data virtually un-hackable.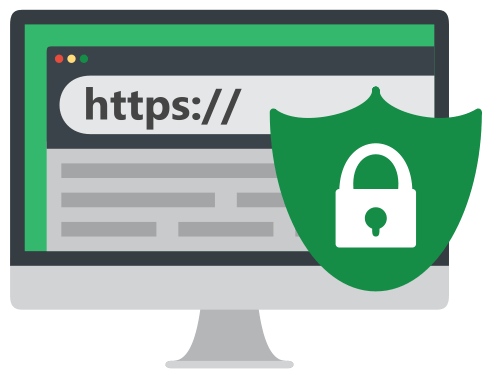 *Pricing excludes applicable taxes and ICANN fees.
Were here for you
Need some help choosing or have other questions? Call us, we're here for you.